Kyrgyz Temir Zholu launches three trains from Russia to Bishkek. Tickets are already on sale.
Let's heal!
Since the beginning of June, Kyrgyz railways have been returning to Russia with three flights:
from June 9 from Kazan: on Thursdays;
from June 11 from Samara: on Mondays and Saturdays;
from June 11 from Novosibirsk: once every eight days.
Of course, all trains travel through Kazakhstan - you can look at tickets to any station in this country. And of course, in addition to Kazan, Samara and Novosibirsk, you can sit at other stations in Russia.
From major cities:
on the way from Novosibirsk, the train stops in Barnaul, on the way from Samara in Orenburg, on the way from Kazan - in Yekaterinburg and Kurgan.
Tickets on the Russian Railways website. Well, or look at the Kyrgyz railway workers, if you want.
You will need a negative PCR to travel.
Prices are (so far) so-so. It makes sense to get to Petropavlovsk, and then go by Kazakhstani railway / buses / planes.
For comparison: tickets for the same train as a whole

And separately: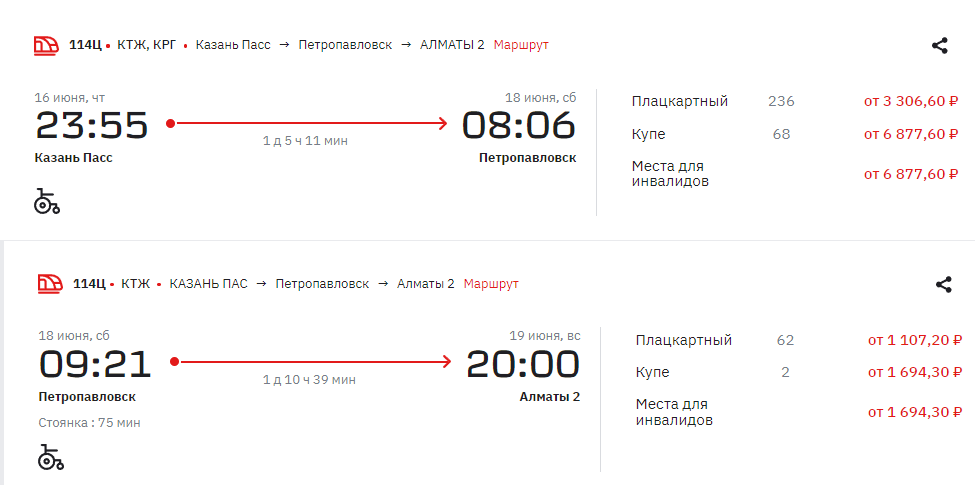 Booking examples:
from Novosibirsk to Kyrgyzstan

from Novosibirsk to Kazakhstan

From Kazan to Kyrgyzstan

From Yekaterinburg to Kyrgyzstan

From Samara, tickets will be filled in the next half an hour or an hour:

From Kazakhstan to Kyrgyzstan

As always, the most convenient way to search is to use calendars:
All calendars by city at once: https://checkintime.ru/deshevye-aviabilety-iz-gorodov/
Search, book, relax!