In this Article: How to Get coupon for 2100 rubles. when registering on Airbnb, promo codes, discount bonuses and useful life hacks for more profitable booking of apartments (rooms, houses) around the world.
Airbnb - by far the most popular site for rental housing around the world from owners. Through it, you can also rent your accommodation to travelers from different countries and find accommodation options for a long term (written below as ↓).

Airbnb Sign Up Bonus: How to Get and Use
First bonus, which you can get on Airbnb - for booking. It is credited only when registering using a special promo link:
The size of the registration bonus is constantly changing, so do not be surprised if you follow the link and find a bonus of $ 24, $ 35 or $ 18. Unfortunately, it is impossible to predict this.
Itself register on Airbnb quite simple and fast, as is the search, booking and delivery of your home. Therefore, I will not describe this process in detail here, I will only remind you that in order to receive a bonus, you need to register using bonus link, and not just through the home page of the site.

Take advantage of the bonus it is possible within a year from the moment of registration, all this time it will be stored in your personal account.
The bonus is triggered automatically when booking accommodation from $ 68 (although this figure can also change, but only slightly). In any case, it is immediately visible when booking - when credited, the bonus automatically appears in the "Coupon" column:
If the booking amount is below $ 68, then the bonus will not be credited, but it will remain until the next booking with a suitable amount.
Pros of Airbnb:
-the ability to pay for the reservation not only by credit card, but also by PayPal,
-living with the owners - you can communicate with local residents and learn about important and interesting places.
-Huge base of housing and the ability to rent your own.
How to find housing on Airbnb - important points and life hacks
Book for a week or a month Airbnb
allows hosts to give discounts on weekly and monthly stays. As a rule, when booking apartments for a week or more, a 5-15% discount is given. When booking for a month, it can reach 50-70%, although, of course, this is a rarity. Some owners don't give anything at all, but today is not about them. Therefore, you should always play with dates. It may turn out that living for 7 days will be cheaper than 5. Or (more often) living for a month is cheaper than 3 weeks. By the way, keep in mind that for some, the monthly discount starts somewhere from 27-29 days, and not from 30-31. The screenshots below clearly show the difference in price.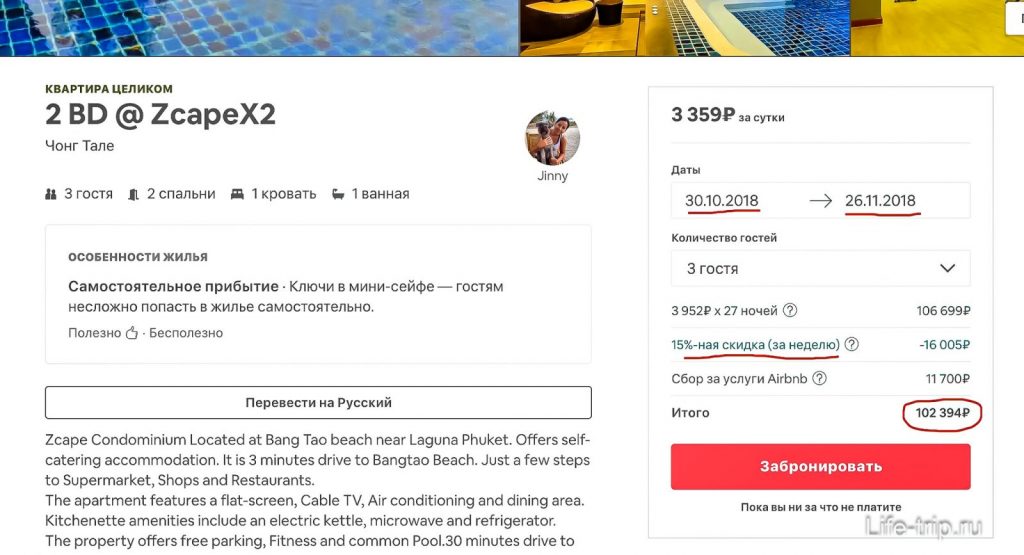 The difference is 17 thousand rubles! Yes, even if I didn't give up 28 days, it's better to take more for a day, but at a lower price.
Apartment without cleaning
The third possibility to influence the price concerns only short-term bookings, for several days. Some apartment owners add a fixed cleaning fee. Although the tourist never does cleaning when leaving, whether there is this option or not. So, if you book accommodation for 1-3 days, then this option with a fixed price can greatly change the overall price, not for the better. Whenever possible, I try to search without cleaning.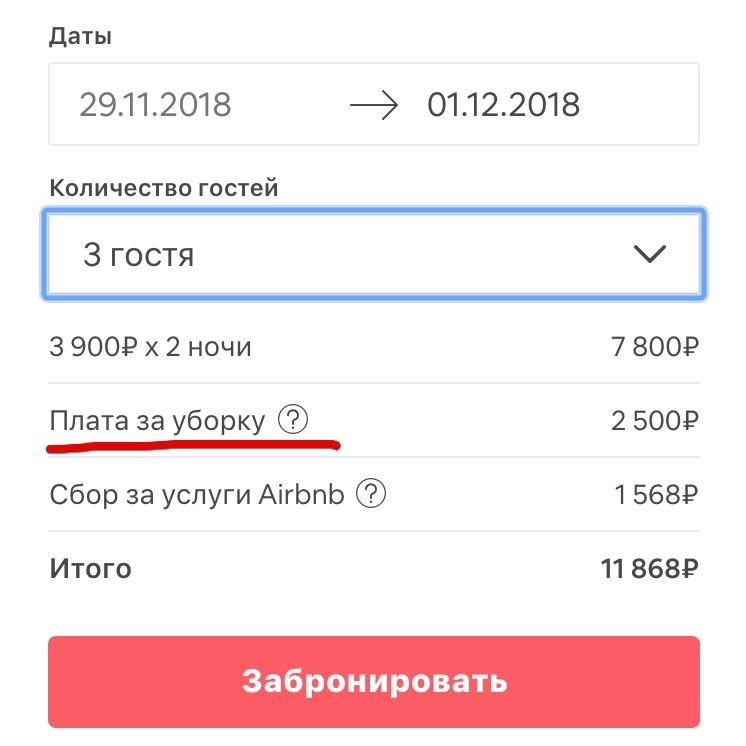 A small life hack about the registration bonus
If you are going to book accommodation for 2-3 days or longer and the amount of your booking exceeds $ 160 - you can book this accommodation with two new accounts (your and your companion), dividing the booking into two periods, and get two bonuses for one accommodation.
More useful things on Airbnb:
Search filters Airbnb is pretty plentiful and user-friendly. You can select and adjust through filters: price, territorial position (by reducing or enlarging the map of the area), availability of the Internet, parking, kitchen, etc. You can also search for options by keywords and find apartments "with a workplace", "cozy", authentic and various others.
Rent a room sometimes it is much cheaper on Airbnb than an entire apartment.
Bargaining on Airbnb - especially for long-term accommodation. With preliminary correspondence, you can convince the landlord to change the price and send it to you in a special offer, or change the general one on the website. Or another option that I sometimes use:
Renting an apartment (room, house) for a month or more through Airbnb can be very beneficial. You can request a reservation of accommodation for several days (a week), be sure to write in a message to the owner of the property that you want to stay for a longer period (clarify which one and make sure that this is possible) and offer you a discount for personal payment.
This method has important nuances: housing should not be very popular (there are options in great demand), the season in this place should not be high and, preferably, you should have at least some reviews on Airbnb. In any case, if this method does not work, you can just bargain and get a discount when paying through the site itself.
Reviews from other travelers. - Be sure to check reviews before booking. There are not many of them on Airbnb yet, but they are actively added. I encourage you to read the reviews of others and leave them for yourself.
Host response rate - an important indicator if you really liked the property and the deadlines are tight. The higher this indicator (from 90%), the faster the owner will answer you.
How to exchange contacts with a home owner on Airbnb. It is not possible for you or the landlord to write your contacts in a message on this site. E-mail and phone numbers on this site are automatically hidden even in private messages, but if you really need to contact the owner personally, this is possible. For example, you can write your e-mail in full letters (myaddress dog mail zone ru) or try to encrypt the phone number in pieces (number plus seven, 701 two hundred forty four 08).
Rent out your home! - if you think that your house in the village or an apartment with a Soviet atmosphere in Khrushchev is not interesting to anyone, then you are mistaken. For people from other countries, this is exotic travel.