Sharm El Sheikh is all about crowds and commerce, but luckily Egypt's Sinai Peninsula offers other, more secluded options.
Sharm El Sheikh, with its hotels and tourist infrastructure, is a popular holiday destination for tourists looking to enjoy the winter sun. In November and December the temperature there approaches 30 degrees Celsius.
But there are several other lesser-known seaside resorts in the same area that cater to the needs of both families with children and tourists traveling without them. They are not as bright and luxurious as Sharm, but attract travelers who are interested in lower prices, desert sun and tranquility. Here are the hidden "treasures" of Sinai.
Dahab
This is the most (though not too) lively of the resorts located on the shores of the Gulf of Aqaba, on the east coast of Sinai. The archway that flanks the bay, where once was a Bedouin fishing village, is now the bustling city center. Dozens of waterfront restaurants, perched on wooden stilts, serve fresh seafood.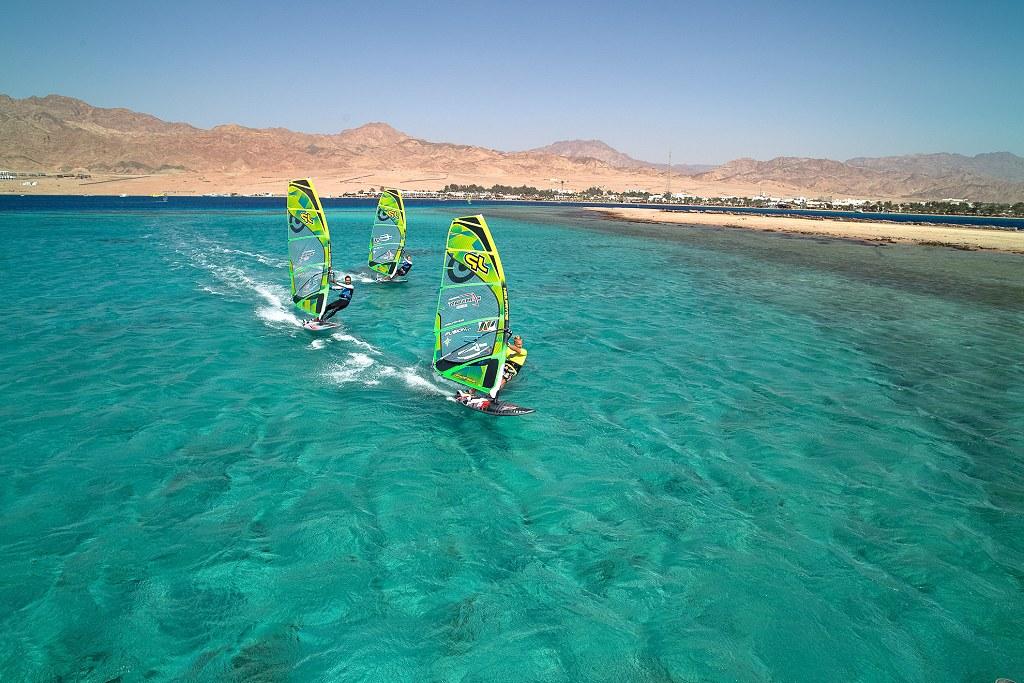 There is a souk, or Egyptian souk, where you can buy everything from spices to ceramics and bales of colorful fabrics, and there are huge grocery stores nearby for those who eat out, whether in a hotel room or on a campsite. Bars sell cheap beer, but there are also cocktail bars offering hookah pipes and nightclubs.
However, none of the districts of Dahab is too noisy. The resort tries to attract mainly tourists over 30 years old. Several decent bookstores sell copies of Egyptian history, the Arab Spring, and novels set in the region.
Dahab means "gold" in Arabic, and the name of the resort is said to come from the golden grains that were once washed out of the streams descending from the mountains. It is famous for its excellent conditions for diving and windsurfing, which attract lovers of these sports to the city from all over Egypt.
Tourists can take advantage of a variety of accommodations, from cheap accommodations to Hilton and Le Mridien hotels.
For advanced divers, the Blue Hole Club offers expeditions to the 130m long karst crater. Less experienced divers will find plenty of fun on the less challenging reefs.
Nuweiba
This small resort with a large number of beaches covers 6,5 km of coastline and connects to a busy harbour. The area was once a key stopping point on the caravan route during the pilgrimage to Mecca.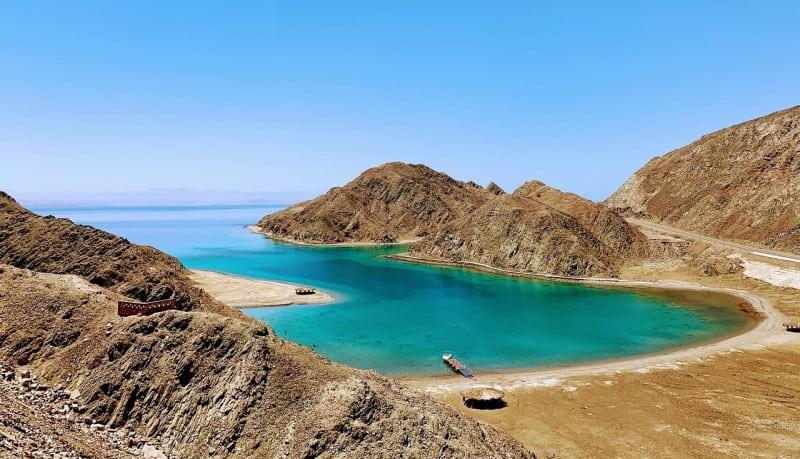 In more recent times, the city has become known for its cheap campsites, bungalows and simple hotels popular with tourists.
The beaches below the hotels have a hippie vibe that is complemented by quaint cafes and plenty of Egyptian and Indian restaurants. You can buy a few knick-knacks at cheap souvenir shops, but Nuweiba is a far cry from Sharm el-Sheikh's exuberant commerce.
There are also larger hotels in the city. The two main ones, Hilton and Regina Resort, have a variety of swimming pools and tennis courts. Hilton" is huge and buried in lush vegetation. The hotel's beach bar, where live music plays in the evenings, is a great place to watch the orange-red Sinai sunsets.
Some of the best diving destinations in the Gulf of Aqaba are just around the corner. These include the Abu-Lu-Lu reef, where you can see sea lions and turtles. Nuweiba is a secluded village with affordable housing.
Taba
From the beach in Taba you can see three countries: Israel (left), Jordan (opposite) and Saudi Arabia (right). They lie on the shimmering arc of the Gulf of Aqaba. In the distance, mountains loom out of the mist, and strange fishing boats float across the water.
Taba is a small village and tourist resort right on the border with Israel, so many of the hotel guests here are Israelis. Outside the hotel fence is a sleepy place with several shops offering souvenirs and groceries. Starting next to the stalls, a huge staircase leads to the Flag Square, where the Egyptian flag is erected in honor of the return of Taba to Egypt in 1989.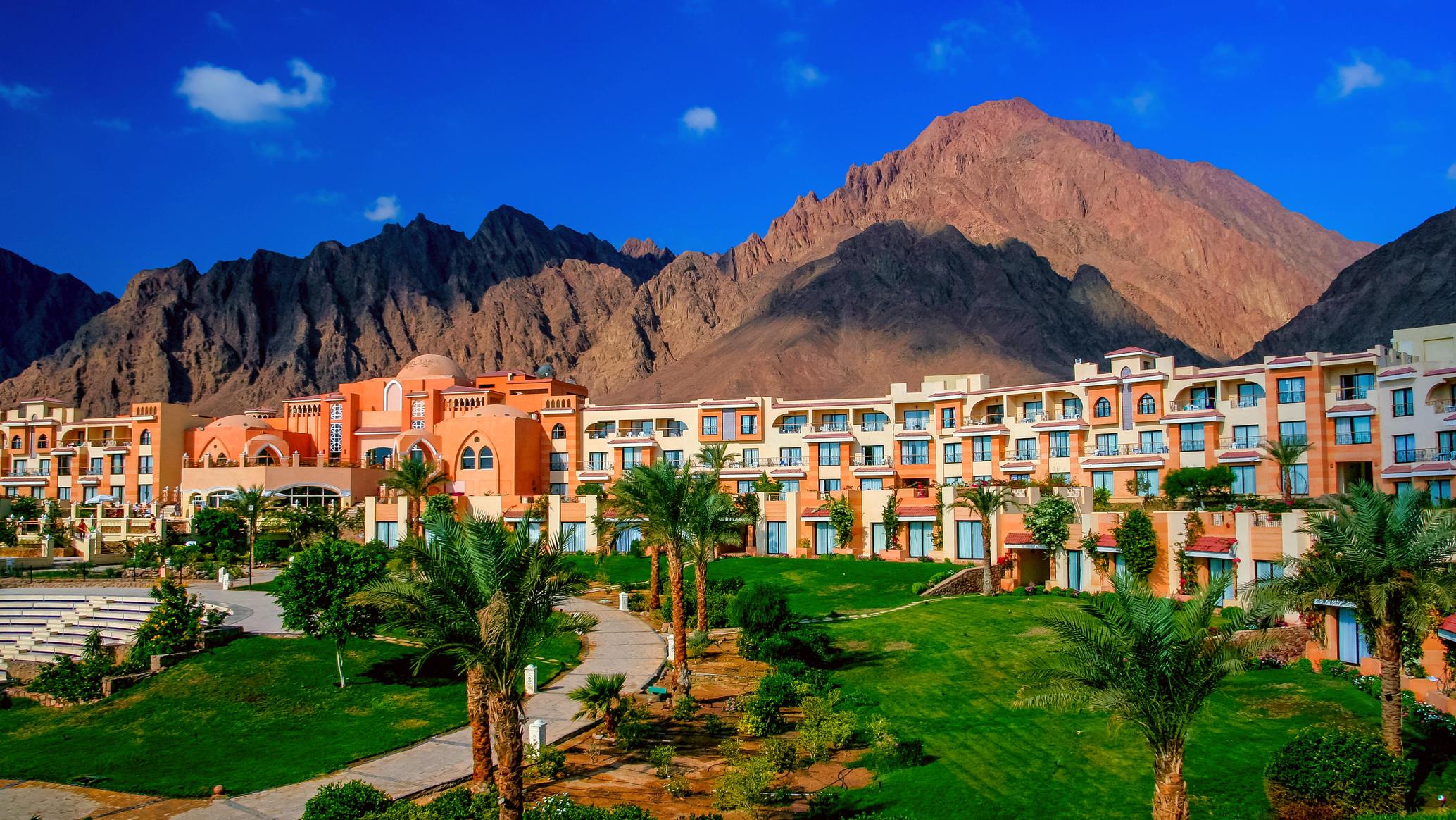 The border with Israel is about 100 meters away. From there, you can take a day trip to the city of Eilat in Israel, which is full of life: there are shopping centers, beach bars and even a diving center with dolphins.
Jordan is another option for a day trip. In the Jordanian city of Aqaba, visit the XNUMXth-century Mamluk fort and archaeological museum, or take a break in one of the many cafes.
Departing at nine in the morning and returning at five in the evening, you can cover all three countries in a few hours, visiting Eilat and Aqaba. It's an unforgettable experience.
Taba has a long sandy beach that you can walk between hotels adapted for families with children, equipped with games rooms, indoor and outdoor pools (plus separate children's pools), soccer fields for teams of five, tennis tables and volleyball courts. Scuba diving with oxygen apparatus or snorkeling is also offered.
Taba Heights
It is an independent seaside resort consisting of five major international hotels (including the Hyatt, Intercontinental and Marriott). It is located 25 km south of Taba, but is a separate world. Staying there gives the impression that you are completely cut off from the rest of Egypt.
The complex is located behind a heavily guarded fence, and tourists enter it through a reinforced checkpoint.
This isolation can be intimidating for certain types of people, but it's also one of the main reasons other tourists come here to get away from the world at a resort that offers a sense of security where the sun shines and it's hot all year round (the resort is very popular with families with children).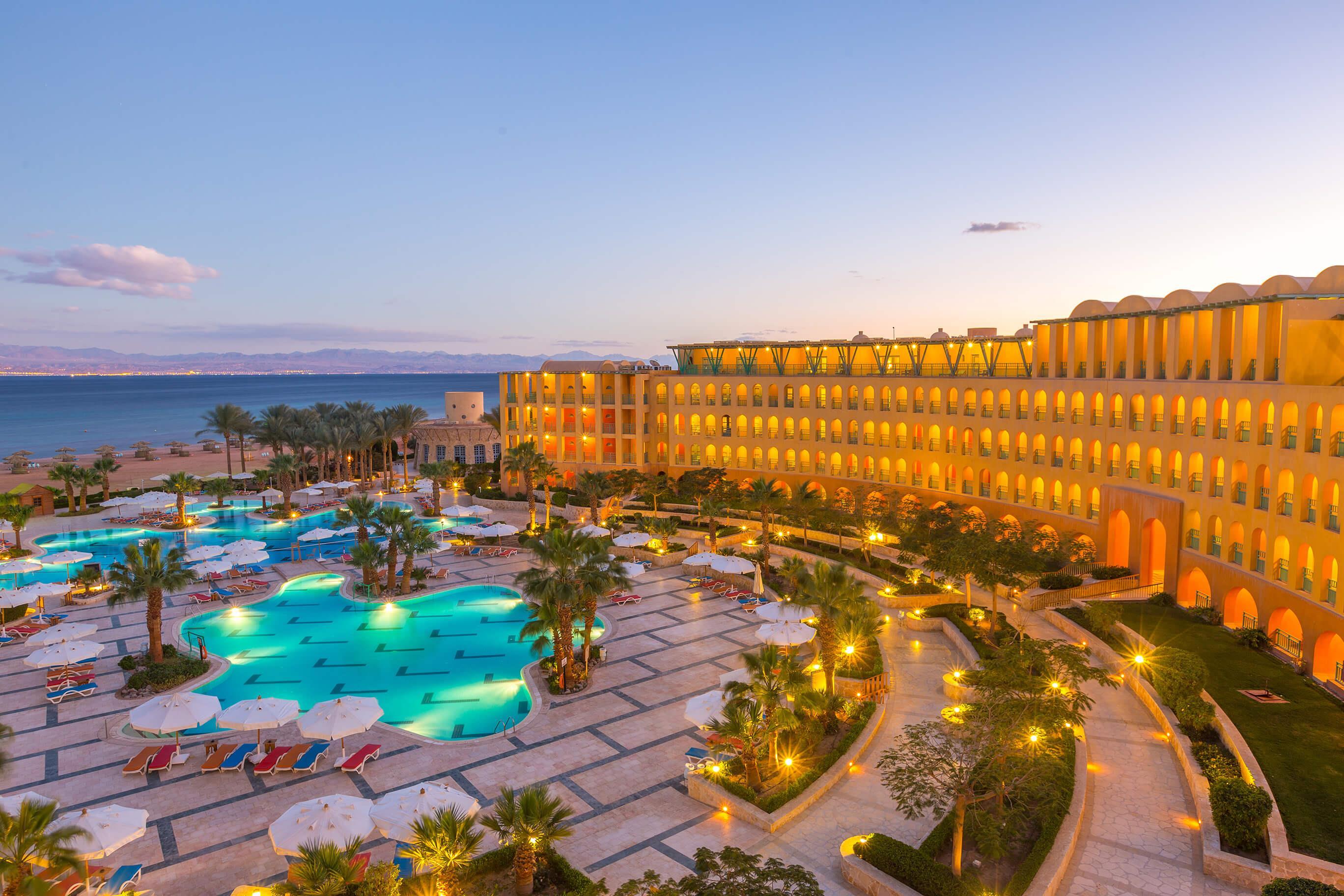 From December to February, daytime temperatures typically reach 22 degrees C, but other months temperatures exceed 26 degrees C, reaching 40 degrees C in July.
The resort spans about 5 km of beaches and two things immediately grab the attention of visitors: the crisp, dry air blowing in from the desert and the dramatic red-colored mountains whose steep slopes begin near the entrance to the complex.
The center of the resort is its most exclusive part, where shops are located, as well as restaurants and pubs offering Egyptian, Indian, Thai and French cuisine. Taba Heights has restaurants serving Italian, Lebanese and Japanese seafood.
Adjacent to the center is the Salt Cave Spa, where you can pamper yourself with Dead Sea salt treatments.
Nearby there is a golf course and a diving and water sports centre. The resort organizes trips to the ancient city of Petra in Jordan, Jerusalem and Cairo.